Royal Panda Loyalty Program
Royal Panda has somewhat of a different loyalty program compared to the rest of the casinos. Here you will be awarded for being a loyal player in their casino, earning loyalty points while playing games (nothing new). These points you earn can then be traded for game benefits or merchandise in the Loyal Panda Shop. For example you can buy free spins for specific games, Royal Panda merch or even a Rolex watch for your points – it all depends on how many of those Loyal Panda points you have earned.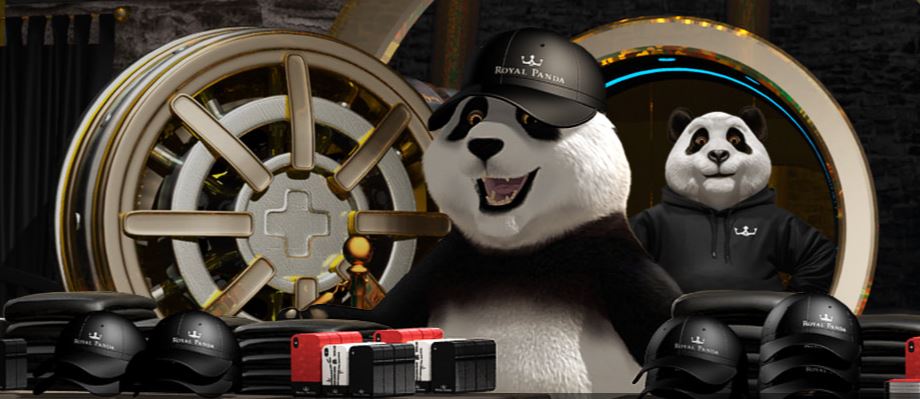 Earn 149 points just by signing up
When signing up to Royal Panda you will receive 149 Loyal Panda Points. The minimum amount to buy something in the Loyal Panda Shop starts at 150 Loyal Panda Points.
To receive the points you have to wager real deposited money in the casino, and the wager requirements to earn 1 (one) Loyal Panda Point looks like this:
Slots: €10
Roulette / live roulette: €25
Table Games: €50
Video Poker: €50
Live Casino: €50
Scratchcards: €10
Softgames: €10
Sports Betting: €10
As you can see the 149 points start is quite a generous one, considering the wager requirements for each Loyal Panda Point.
Lots of things to choose from in the Loyal Panda Shop
When saying that loyal players should be awarded, Royal Panda definitely means awarded – there are really nice goods that can be bought for the Loyal Panda Points. For example you can get a Rolex and flying tickets to Macau. The minimum amount of points you need to shop is 150.
Examples of things you can get for points in the Loyal Panda Shop:
10 free spins at Starburst – 150 LP points
€10 bonus – 900 LP points
€10 charity donation – 1 500 LP points
10.2 inch iPad 32 GB – 75 000 LP points
12-inch MacBook – 420 000 LP points
Royal Panda beanie – 3 500 LP points
Royal Panda hoodie – 5 100 LP points
Rolex Submariner – 1 100 000 LP points
RayBan Aviatior Unisex – 22 000 LP points
Samsonite Spinner Suitcase – 50 000 LP points
2 tickets to Las Vegas – 116 000 LP points
2 tickets to Macau – 116 000 LP points

How to redeem the Loyal Panda Points
Visit the Loyal Panda Shop
Choose the reward you want. You can only choose rewards that you have enough points to receive
Click the button that says 'Checkout'
Royal Panda will send you your selected item as soon as possible
The more points you earn – the better the benefits
The Royal Panda slogan is 'Be Loyal and we will treat you like a Royal'. There are four different loyalty levels. What the benefits for each level are, is a secret – that is only known by the ones who have reached that loyalty level.
Bronze Level: This level is for every player who is in the Loyal Panda Programme
Silver: 15 000 LP points. 'Next level reward for next level players'.
Gold: 45 000 LP points. 'Gold-standard benefits for loyal players'.
Diamond: 150 000 LP points. 'Diamonds are a Loyal Panda's best friend'.
Terms and conditions for the Royal Panda Loyalty Programme
18+
Entry to the programme is granted for players who have opted in for receive marketing communications
Only real money wagering earns you LP points
Specific terms and conditions is described for each item in the Loyal Panda Shop
The Loyal Panda points can not be exchanged for money – they can only be used for receiving items from the Loyal Panda Shop
There is no upper limit on the amount of Loyal Panda points you can receive and use
General Royal Panda terms and conditions do apply