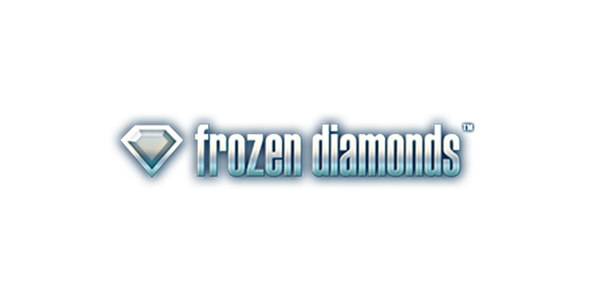 Frozen Diamonds
Frozen Diamonds is a slot game from Rabcat Gaming which boasts icy features and the coolest prizes. When you open this game in free demo or real money mode, you will be transported into an icy cave where the gems and prizes are just waiting to be unlocked.
You are not just presented with an engaging theme and gems in ice blocks in the Frozen Diamond slot. This game also boasts some cool features that can keep you happy while playing the game. Here, you can enjoy free spins and tumbling reels which can deliver the best wins.
About the Game
In this slot game, you will be transported into a magical and cool place where gems and prizes can be unlocked. In Frozen Diamonds, the symbols are covered in ice, and it's up to the player's spin to break these covers. The slot game comes with 5 reels, 20 paylines, and an RTP of 97%. Visually, the game delivers the goods and entertainment and provides players with an escape from the daily grind. Adding to the appeal of the game is the gameplay and how the symbols create winning combinations. Instead of reels spinning, this game boasts blocks of ice falling from above in a tumbling motion. Once a winning combination has been formed, the ice will burst to create room for new symbols.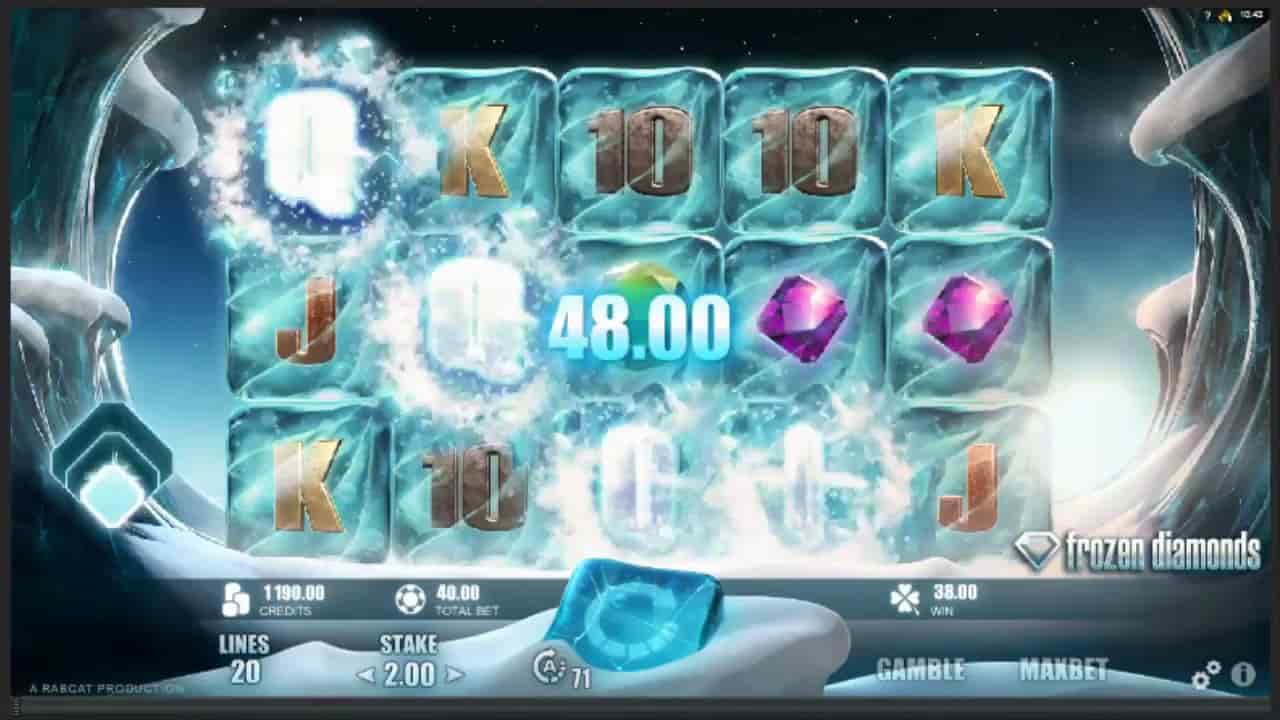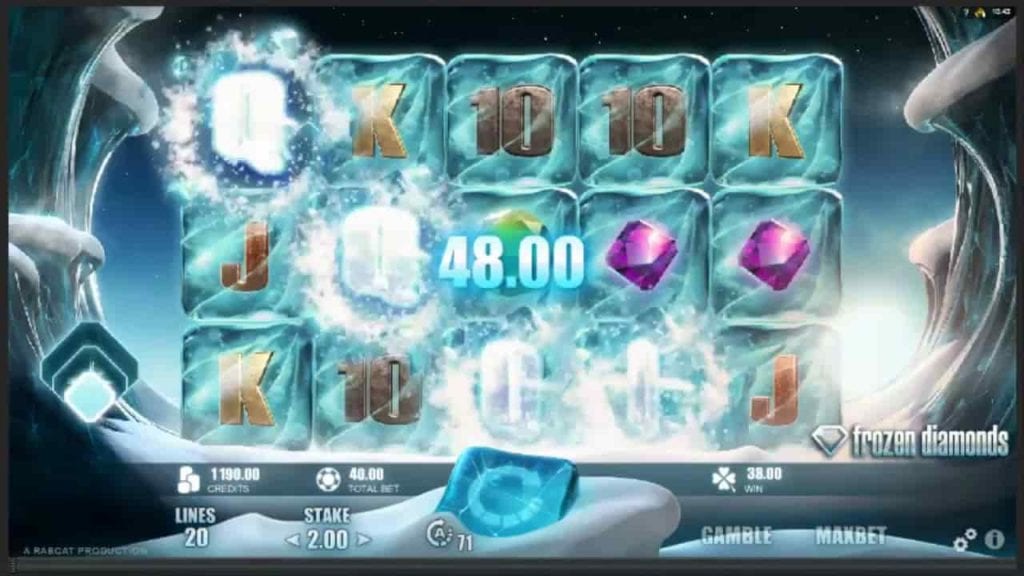 Pros
Excellent RTP
Winning combos start bonus fall
Scatters trigger 5 – 10 free spins
Cons
Slot Game Bonus Features
Expect a visual treat for the eyes when you play Frozen Diamonds in both the free demo and real money versions. When you open this game, you are presented with a 3 by 5 playing grid displayed against a cave background. You will also notice stormy weather in the background which adds to its appeal. When playing the casino game, watch out for the coolest features and bonuses that you can unlock using special symbols. This comes with wilds, high-paying symbols, and a collection of bonus features. You are allowed to unlock the First Fall, First and Second Fall bonus and the Free Spins bonus in your lucky spin.
Wilds
This game comes with the wild symbols which can help players unlock more winning combinations. When you play in real money, the wilds come in the form of a colourful start wrapped in ice. As a wild feature, this item can substitute for other symbols to create more winning combos. A minimum of 3 wilds is required on the reels to start collecting instant wins. You can earn 40 credits if you can land 3 wilds on the reels. Also, you can earn up to 200 credits if there are 4 identical symbols on the screen. Finally, collecting up to 5 identical symbols can give you the highest payout of 1,000 coin credits.
Scatters
Compared to other popular slot games, Frozen Diamonds slot does not specify the scatters. When you check out the paytable, you will not find information or in-game details about this popular symbol. Instead, you will discover information about symbols and the procedures used to unlock the free spins mode. Although the game does not explicitly indicate scatters' presence, players can still count on the appeal of the free spins bonus, which is explained below.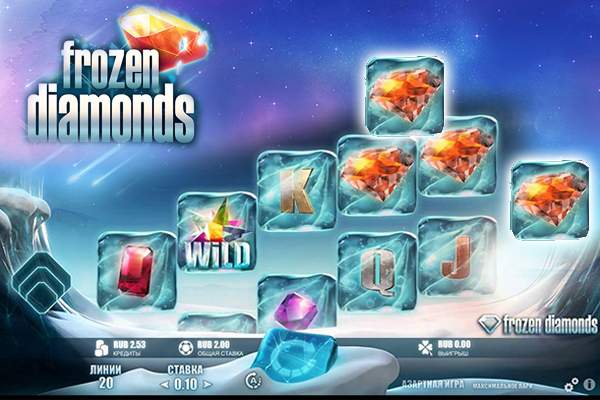 Frozen Diamonds Free Spins
Like other Rabcat Gaming slot presentations, this Frozen Diamonds slot game also boasts a free spins bonus. Instead of the scatters activating this bonus, players need to use other ways to unlock the offer. You need to register at least three consecutive wins in this game to collect 5 or 10 free spins bonus randomly. During the first fall of the free spins round, the third reel will be randomly filled with 2 or 3 wilds. And if you get another winning combination during the second bonus fall of the free spins bonus round, the game will award you with another free spin.
Frozen Diamonds Mobile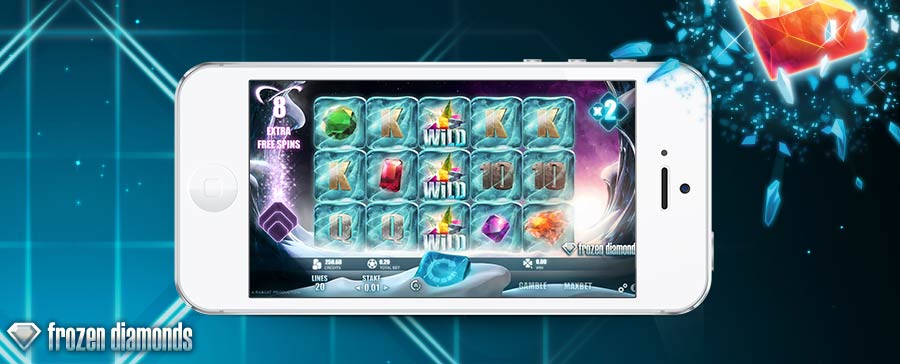 This slot game is designed using Flash technology. Since the game is designed using Flash, it should work perfectly on desktop platforms. To play this on desktops, players must make sure that the chosen device is installed with the latest version of Flash. If not, the system will notify the player and provide instructions on how to install Flash. When it comes to mobile use, players can still play the game on their preferred mobile device. Visit the preferred website using the mobile browser to access the game.
Frozen Diamonds Jackpot
This game is fully loaded with bonus features that can help you collect instant wins. Different gems can provide you with instant wins during real play mode. Of these symbols, the most important item to watch out for is the wild. If you can collect up to 5 identical symbols on the reels, the game can reward you with 1,000 coin credits. However, the biggest jackpot that you can make on this game is 80,000 credits. You can increase your chances of collecting the best jackpot in this slot by playing the maximum wager.
Our Verdict
Frozen Diamonds slot is one of the most engaging and colourful slots from Rabcat Gaming. We have reviewed a few games from this software vendor, and this game is one of its best offerings at least in terms of visuals. Bonus-wise, this slot game is a decent casino offering thanks to the free spins bonus's availability. We also love the first fall and second fall bonus which we consider as an exciting innovation. In the game, we don't like the absence of other standard features expected in a top-shelf slot game.
For example, this game does not reward the players with a larger number of free spins. Also, this slot game from Rabcat Gaming does not offer a progressive jackpot. Furthermore, the jackpot prize is decent and should work for beginners looking for decent wins. Overall, this Rabcat Gaming slot game is still highly recommended. If you love highly entertaining slot games with creative visuals, then Frozen Diamonds is highly recommended.
Quick info
Release Date:
1 August, 2016