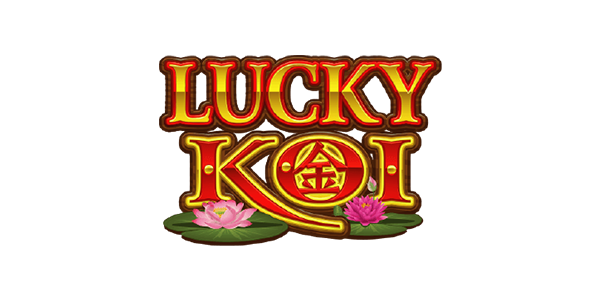 Lucky Koi
Lucky Koi Slot is an online slot game created by Microgaming which offers great wins and free spins while catching your favourite Chinese koi fish. This slot game is a visually refreshing choice for online slot enthusiasts. Lucky Koi slot game comes with 5 reels, 3 rows, and 25 pay lines to enjoy.
If you love fishing, this game will certainly be an entertaining and rewarding slot pick. The dazzling appeal of this slot is not just limited to the colorful graphics but also to the relaxing background music. It also boasts the koi bonus feature giving players up to three chances to pick a fish and collect coins. Take advantage of the scatters to open the door to mega jackpots with numerous free spins bundled.
Slot Game Bonus Features
You will surely feel lucky with the Lucky Koi slot game bonus feature. When at least three scatter symbols appeared on the reels, they are transformed into bonus symbols. This gives players a dual bonus opportunity that can be enjoyed. One of which is the Koi Bonus feature that allows players to pick three lucky koi fish. Out of these three fish picks, players can get a huge number of coins.
Total wins for this bonus round are displayed at the right bottom portion of the slot interface. Lucky Koi slot game gives you a feeling as if you are catching fish from a fish pond. Once the total winnings are displayed, then players can get back to the basic slot game mode. Lucky Koi slot bonus feature also allows players to get free spins with a random multiplier.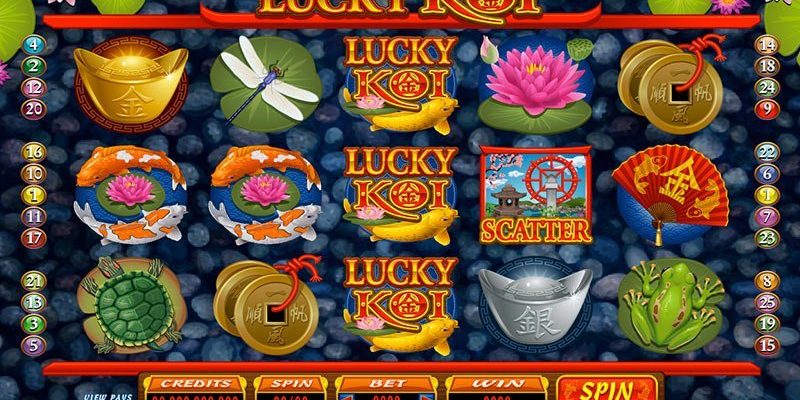 Pros
Comes with in-game multipliers
Bonus rounds and free spins
An excellent bonus of up to 2,500 times the bet
Cons
The command bar at the bottom can be complicated for the new player
Wilds
Lucky Koi slot game also features wild symbols which substitute all other symbols in the slot except for the scatters. In the game, players can expect symbols such as coins on a thread and lily. The Lucky Koi icon serves as the wild symbol in the slot game.
During the base play, these wilds may appear randomly on the reels. Wilds may help players come up with a winning combination. Players get the chance to win up to 2500 times the bet placed. To trigger this win, you must have 5 identical symbols in any part of the reels.
Scatters
Just like the usual slots, scatters are out on the reels with Lucky Koi slot game. Three of a kind scatters on the reels will lead you to either bonus round or free spins. You can only choose one of these two winning opportunities.
Scatter symbols may appear anywhere on the reels so watch out for three or more icons. Getting three scatters on the reels may happen multiple times since slots are game of chance, and the results are unpredictable.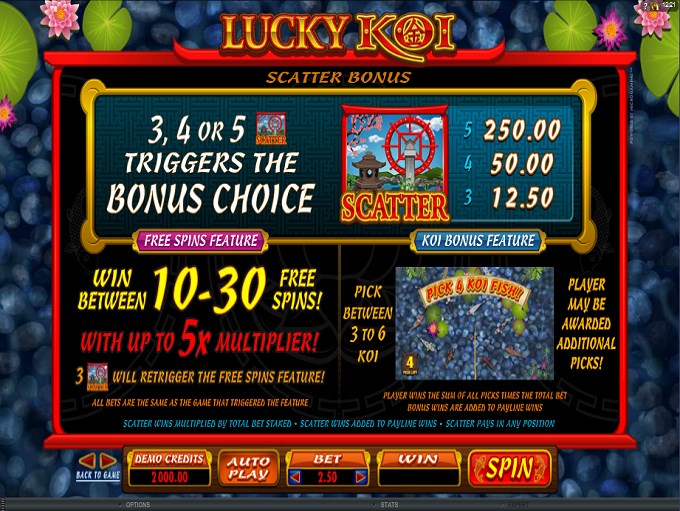 Lucky Koi Free Spins
If free spin is one of your top concerns when playing slot, Lucky Koi is an excellent choice. Lucky Koi slot game awards free spins to players whenever three or more scatter symbols appear on reels. Players can with from 10 to 30 free spins bundled with multipliers up to 5 times the bet. Free spins may vary depending on the number of scattered symbols present on the reels. Five identical symbols on the reels can also give you free spins.
With the free spins bonus round, total coins from the three picked koi fish will be summed up. Bonus wins and payline wins will then be combined. The current number of spins available is displayed at the left portion of the slot interface. What makes this game unique is that you can repeatedly enjoy free spins bonus every time three or more scatters are out on the reels.
Lucky Koi on Mobile
Microgaming ensures the highest level of platform compatibility, and it is evident with Lucky Koi slot game. This online slot application can be downloaded to mobile devices giving extra convenience to online slot players. It is designed to run with any Android or iOS device smoothly. You need not go to physical casinos to play your favourite slot online. Lucky Koi can also be played on mobile directly to the browser. This is dependent on the online casino where you prefer to play the game.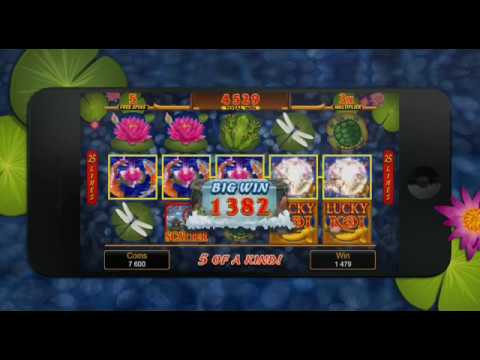 Lucky Koi Jackpot
This online slot game offers the most luxurious jackpot prize to chase after. Getting 5 of a kind symbols on the reels may be multiplied three times or five times your bet. Players can win up to 125,000 coins which can be achieved through free spins bonus and koi bonus feature. Free spins can come with a random multiplier which can help you in achieving the jackpot prize. Get the right combination and start collecting the jackpot prize.
Our Verdict
Lucky Koi is a refreshing treat from Microgaming to online slot lovers. This slot presentation is a great way to enjoy free spins and bonus rounds along with exciting bet multipliers. Given the feeling of catching a koi fish, extra excitement can be felt as the picked koi fish releases coins. The theme and visual experience alone will give you enough reasons to enjoy the game. On top of the refreshing theme, you can also expect great payouts and bonus features. There are free spins, wilds, and other bonuses which make this Microgaming presentation highly recommended!
Quick info
Release Date:
6 January, 2014