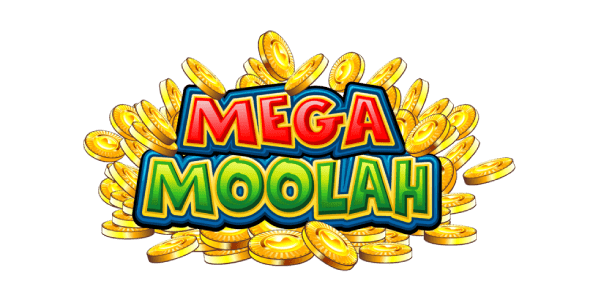 Mega Moolah
When talking about jackpot slots it is impossible not to mention the Mega Moolah slot. This beast of a jackpot slot has over the years changed the life of many players – in fact, it even has a place in the Guinness World of Records for giving the highest slot progressive jackpot win in the entire world.
The jackpot in the game is progressive, meaning that it is growing every time a player does a bet in the game – and during 2020 the slot got a bunch of Mega Moolah sister slots connected to the same jackpot, meaning it will most certainly grow big (read: humongous) even faster. Maybe it will even break new records again – everything is possible when it comes to Mega Moolah.
In this review you will get to know this jackpot pioneer slot that Mega Moolah actually is, and we will begin by letting you know how this slot works regarding functions, symbols, features etcetera. Further down in the review you will find our 100 spins test round, which we do to give you a clue of what to expect from this slot. As always we will also give you a tip about where to play Mega Moolah with a bonus, and as a final we will give you our verdict of this slot.
How does Mega Moolah work?
The layout of Mega Moolah is pretty basic and it has 5 wheels, 3 rows and 25 pay lines. The betting range is really modest and stretches from 0.25 up to 6.25. The medium volatility has the slot paying out winnings every once in a while, and its RTP is lower than average due to the fact that this is a progressive jackpot slot – and it lands on 88.12 %.
To hit a win in Mega Moolah, you need two matching symbols of the top three premium symbols or three matching symbols for the rest, to land in one of the 25 pay lines.
Symbols
The symbols in Mega Moolah does pay you in coins. How valuable the coins are, depends on your stake – the bigger the stake, the higher the coin value.
| | | | | |
| --- | --- | --- | --- | --- |
| Symbol | 2 on a payline | 3 on a payline | 4 on a payline | 5 on a payline |
| | | | | |
| Lion | 15 coins | 125 coins | 1 500 coins | 15 000 coins |
| Elephant | 6 coins | 50 coins | 250 coins | 750 coins |
| Buffalo | 4 coins | 40 coins | 150 coins | 600 coins |
| Giraffe | 0 | 30 coins | 125 coins | 500 coins |
| Zebra | 0 | 20 coins | 100 coins | 400 coins |
| Gazelle | 0 | 10 coins | 50 coins | 250 coins |
| A | 0 | 8 coins | 40 coins | 150 coins |
| K Q J 10 | 0 0 0 0 | 6 coins 4 coins 3 coins 2 coins | 30 coins 20 coins 15 coins 10 coins | 100 coins 75 coins 60 coins 40 coins |
Extras:
Wild Lion: works as a wild which can replace any other paying symbol on the reels. Also gives payout by itself and is the most high paying symbol on the entire paytable.
Monkey Scatter: this symbol gives you free spins. 3, 4 or 5 landed scatters gives you 15 free spins, and the symbols can land anywhere to trigger the feature. Also gives out cash winnings by itself.
Bonus Features
The main attraction in Mega Moolah is of course its giant progressive jackpot, but there are also other features that you are more likely to experience when playing the slot. Those are wilds and free spins – and both of those do actually give payouts by themselves as well.
Free spins
When you land 3 or more of the Monkey Scatter the free spins feature will trigger. This will give you 15 free spins, and the amount of free spins that you are awarded will be the same, regardless of whether you land 3, 4 or 5 scatters. The symbols do not need to land in any specific combination, they can be scattered all over the playing field.
Wilds
In Mega Moolah there is a Lion wild, and this symbol functions as a substitute for all symbols on the reels, except for the scatters. The Lion wilds can also form winning combinations by itself, and if you land two or more wilds in a pay line you will receive a payout.
Progressive Jackpots
The Mega Moolah slot does not only have one jackpot – it actually has four of those, starting at different payout levels.
Mega Jackpot: starts at 1 million dollars
Major Jackpot: starts at a 10 000 dollars
Minor Jackpot: starts at a 100 dollars
Mini Jackpot: starts at 10 dollars
There is nothing you can do to trigger the jackpots except from playing, since the jackpot function will be triggered randomly. There is a greater chance to trigger this feature however, if playing with high bets. The higher the bet – the greater the chance to trigger the fortune wheel jackpot feature.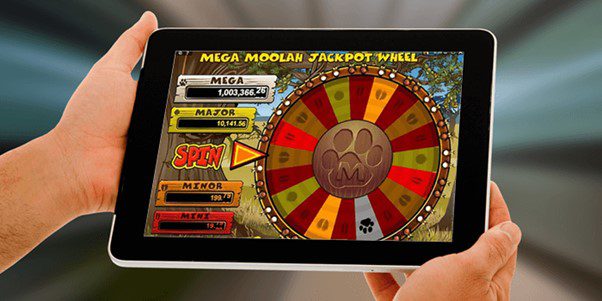 When this feature starts, you will get to spin at a big fortune wheel, which has different fields for all of the different jackpots. The jackpot that is in the field where the wheel stops, is also the jackpot you will win.
Tips for playing Mega Moolah
As for all hazard games, there are no guarantees of winning, and that state you should always keep in mind when playing. Therefore you should not read those tips as tips for winning – instead they will hopefully let you keep your bankroll on a decent level for a little longer.
Think about the medium volatility
The volatility in Mega Moolah is a medium, and the RTP is quite low. This tells us that maybe you should be quite restrictive with your bets when playing, because there might be some time between those decent winnings. This however might decrease your chances of winning the big progressive jackpot, since Microgaming claims that you have a greater chance of winning the jackpot by betting high. But just so you know – there are players who have won the mega jackpot in Mega Moolah when betting with the minimum bet as well, so no worries.
Practice playing for free
We recommend that you do play the demo game for free before you start playing with real money. This is a great way to get to know the game better, so that you have a better understanding of what to expect when playing. If you want to, you can also compare your statistics with our 100 spin test round to see if there are any similarities or differences.
Always play safe
As always, we recommend you to play safe, and this one is the most important thing to keep in mind when playing. Always play safe. You shall never play for money that you can not afford to lose, you shall never count on winning, and you shall never ever play to regain money that you have lost. Remember that playing casino games should be fun and not a stress.
How to win Mega Moolah
The Mega Moolah Progressive Jackpot is the big one that most online jackpot players want to win. It's perhaps the most famous online jackpot of them all. But if you are new to slot games or just new to jackpot games, the question of how to win Mega Moolah may have already crossed your mind.
The one important fact is that there is no guaranteed strategy to win. All online games need to be 100% random on every bet. So, this means you need to be extremely lucky to win the Mega Moolah jackpot. However, there are ways to improve your chances, and this comes down to playing sensibly.
Our Mega Moolah Jackpot Plan
First of all, make sure you know how much you are willing to bet on the game. Work out your budget and never go over that amount. Secondly, you need to understand that any of the four jackpots can be won from a 0.25 bet – this is based on a 0.01 bet across all 25 paylines.
However, the mechanics of the slot has  been designed so that you have more chances when you place bigger bets. So, if you bet 0.50 per spin, you'll have double the chances of winning than when playing at 0.25 per spin. The maximum bet is worth 6.25, but again, always play within your budget.
The next stage of the strategy comes down to maximising your spins on the game. It makes more sense to play 10 x 0.50 spins rather than 1 x 5.00 spin. In other words, give yourself more chances to win by playing more spins for your money.
Keep this plan in mind when you next think about how to win Mega Moolah. You may get lucky!
Casino bonuses for Mega Moolah
If you want to play Mega Moolah with a bonus, we hereby present you with one of the strongest offers currently available at the casino market.
Genesis Casino
Started:

2016

Rating:

4.9

Rupees:

Yes
If you want to play Mega Moolah with a bonus, you should check out the bonus offer that is currently available at Genesis Casino. Here you will get a bonus of up to ₹30 000, plus 20 free spins at the popular slot Starburst.
The bonus is divided into four steps, and for the first deposit you do not need any promotion code, but with the three other ones you do.
First deposit: 100% match up to ₹10 000 + 20 free spins at Starburst
Second deposit: 50% match up to ₹10 000. Code: WGEN2
Third deposit: 25% match up to ₹5 000. Code: WGEN3
Fourth deposit: 25% match up to ₹5 000. Code: WGEN4
Up to ₹30 000 + 20 free spins
The bonus has a minimum deposit of ₹800, and there is a 40x wager that needs to be met before any withdrawals can be done.
The theme & design
Well, Mega Moolah was released in 2006, and that you really can tell when looking at the slot. The design is out of date – but soon it will be so out of date that it is modern again. Anyhow, the theme is all about the African savannah, and the premium symbols in the slot have african animals on them. We would be lying if we told you that Mega Moolah is a nicely looking slot – it most definitely is not, but it has its charm, and most important – it has its crazy high paying progressive jackpots.
Audio
The audio of the Mega Moolah slot is far better than its visuals, and it is actually quite soothing playing this slot while listening to the relaxing audio. The sounds are inspired by Africa and the savannah, and it is truly a pleasure listening to this. We therefore recommend you to play Mega Moolah with the sound on.
Pros with Mega Moolah
It has 4 different jackpots
The audio is fantastic
The mega jackpot starts at 1 million dollars
There are more slots in the Mega Moolah series
Cons with Mega Moolah
The design is really out of date
An RTP of 88.12% is not super impressive
Our results from 100 Spins
This is the result of our 100 spins test round. If you do your own test round you will most likely get a different outcome, and that could be both for better or for worse. Remember that all outcomes in this game are 100 percent randomized.
Start Balance: 250
Stake: 2.5
Please note that we did not use the gambling function during our 100 spin test round, since that could have a huge impact on the result, for better and/or worse.
1-10
Results
Balance:

233.9

Margin from previous 10 spins:

-16.1
11 – 20
Results
Balance:

220.6

Margin from previous 10 spins:

-13.3
21-30
Results
Balance:

198.6

Margin from previous 10 spins:

– 22
31-40
Results
Balance:

206.6

Margin from previous 10 spins:

+ 8
41-50
Results
Balance:

203.2

Margin from previous 10 spins:

– 3.4
51-60
Results
Balance:

207.6

Margin from previous 10 spins:

+ 4.4
61-70
Results
Balance:

193.7

Margin from previous 10 spins:

– 13.9
71-80
Results
Balance:

169.9

Margin from previous 10 spins:

– 23.8
81-90
Results
Balance:

166.9

Margin from previous 10 spins:

– 3
91-100
Results
Balance:

149,1

Margin from previous 10 spins:

– 17.8
Total outcome of 100 spins test round
Results
Balance:

149,1

Margin from start:

– 100.9
Final Verdict
When it comes to jackpot slots Mega Moolah truly is the King amongst Kings. This slot has a dignity that comes with its impressive age and the fact that is still today is super popular amongst the players.
Even though the design is really out of date, that is part of the charm – and as we said before, the design is so old it won't be long before it's modern again.
It is a fun slot to play, and we really do love the audio part – so do not forget to play with the sound on.
Frequently Asked Questions
Where can I play Mega Moolah?
Mega Moolah is a popular slot which you can find at many casinos. One of the casinos that holds this game and that we also recommend is Leo Vegas.
Is it possible to play Mega Moolah for free?
It is indeed possible to play Mega Moolah for free. When entering this review you will have the opportunity to play Mega Moolah for free for just as long as you wish.
Are there any bonuses for Mega Moolah?
Mega Moolah is in fact a popular game to offer bonuses for. Therefore there are a lot of bonuses that can be used to play this slot, and if we get to choose only one it will be the Genesis Casino bonus. You can read more about that bonus in our review.
What's the highest you can win from Mega Moolah?
The highest win you can get from Mega Moolah apart from the progressive jackpots is 11 250 x your stake.
How is the volatility for the game?
The volatility for Mega Moolah is at a medium.
Does Mega Moolah have a bonus feature?
Yes, it does. Mega Moolah has wilds, free spins and a jackpot fortune wheel.
Quick info
Release Date:
28 November, 2006