Spooky Halloween Promotions
Your fellow friends at BestCasinoIndia have many years experience in the online casino industry. Throughout the years we have noticed that Halloween together with Christmas is one of the most rewarding holidays when it comes to cash prizes, bonuses and free spins. We are happy to tell you that LeoVegas, the King of Casino is currently hosting 2 Halloween promotions:
Halloween Badges
Spooky Leaderboards
Most Indian casinos will during this festive period host Halloween promotions, but we can guarantee that none of them will be as exciting and thrilling as LeoVegas' campaigns. Keep on reading and we will tell you everything you need to know in order to take part.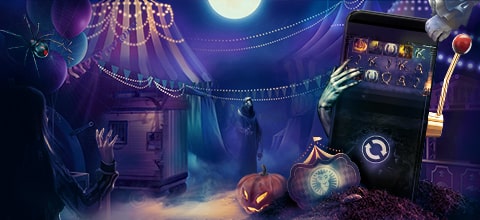 Halloween Badges
There are currently 12 badges hidden in the LeoVegas Live Casino. Unlock them for up to 120 cash free spins and tickets for their ₹500,000 draw. As usual, it's important you press the opt-in button in their promotion page in order to compete for the rewards. For each badge you collect you will get 15 cash free spins to use on Halloween Jack slot, and one ticket to the ₹500,000 draw. So how do you collect the different badges?
Wolf Badge: Wager ₹5000 on Lightning Dice
Witch Badge: Get two Blackjack wins on any Chambre Séparée Blackjack table. (min. bet ₹1000)
Frankenstein Badge: Get into the bonus round on MONOPOLY Live. Minimum bet is ₹500
Pumpkin Badge: Play 10 rounds on Live Dream Catcher. Minimum bet is ₹1000
Skull Badge: Win with Perfect Pair side-bet on a Chambre Séparée Blackjack-table. Minimum bet is ₹500
Zombie Badge: Get three Straight Up wins on no.13 on the LeoVegas Live Roulette
Black Cat Badge: Accept a deal between ₹5000 – ₹10,000 on Deal or No Deal Live
Ghost Badge: Win with the outcome of 5 (20:1) on Super Sic Bo. Minimum bet is ₹500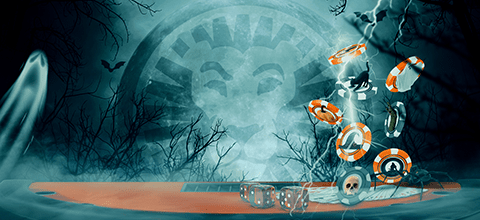 Spooky Leaderboards
Take it from us, this a one of a kind promotion. This is due the main objective is to get the single best coin win. This means that any kind of player can win the first prize of ₹100,000, it doesn't matter if you are a high roller or are playing with pennies. Also, the top 22 players in the leaderboard will be rewarded with 22 cash free spins. This what what you need to do for your chance on the ₹300,000 daily prizes:
Play any of the promotion games between 00:30 – 02:30
Get a good coin win
The coin wins in slot machines are always the same and are not dependent on the bet amount, the actual win on the other hand, is dependent on the bet amount. But as stated before, for this promotion specifically you just need to worry about the actual coin win. These are the promotion qualifying slots:
Halloween Jack
Lost Vegas
Lucky Halloween
Mr. Hallow-Win
Pumpkin Smash
The Creepy Carnival
Zombie Circus
These are the extravagant prizes that you can win in the Spooky Leaderboards campaign:
1st place: ₹100,000
2nd place: ₹50,000
3rd place: ₹35,000
4th place: ₹20,000
5th – 8th place: ₹10,000
9th – 13th place: ₹5000
14th – 25th place: ₹2500